GameTree Community Spotlights – Know The Rules!
by John Uke • August 4, 2020
There are so many types of people that help make the gaming community a place we know and love. Gamers, streamers, cosplayers, developers, musicians, artists, speedrunners, modders, historians and everyone in between. In the shadow of every AAA game there's an indie developer trying to make it big. For every "Ninja" there's a new streamer yearning to build their audience. GameTree wants to celebrate these up-and-coming titans of the industry with a spotlight on their work. This is a chance for you to walk onto the gaming stage and tell the entire GameTree audience about the amazing things you do. We're all pillars of this community, and everyone deserves a chance to grow.
Each month we'll be taking a look at a new group. This month is all about celebrating…
Rules:
This month's community spotlight starts from 8/4/20 and lasts until 8/18/20. You have until then to enter.

Fill out this form!

You must be a GameTree user, and have reached at least level 2 inside the GameTree platform to enter.

3 winners will be chosen at random and after a review of their stream to see that you are legit!
Prizes:
We will post about your content once across all of our social media channels.
We will write an article about the three winners' stories as creators, based on the answers on the form!

You will earn an exclusive 'Highlighted Hero' badge (see below).

You will earn 2000 bonus experience.

When you stream, we will autohost you once on our streaming channel.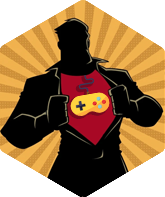 Good luck!