TacoBebs, QueenofShadows52 and SweetHeartRinoa! Our First Community Spotlight Winners!
by John Uke • September 17, 2020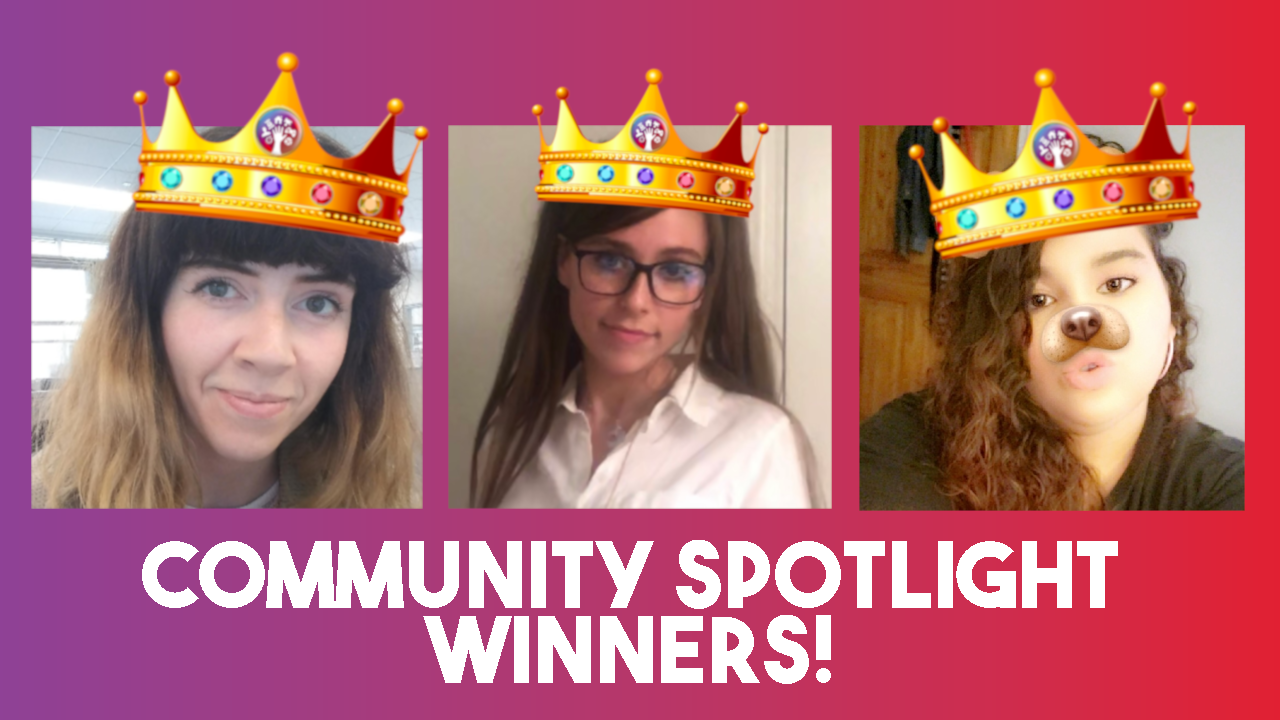 GameTree has a great community that enhances the video game industry through their talent and love for gaming. That is what inspired us to do a special GameTree Community Spotlight event where we randomly chose three winners to give them the shout-out they deserve.

For this event, the main theme was "streamers," so please enjoy seeing these content creators and what they have to offer!
First up, we have TacoBebs. A British Twitch streamer that loves RPGs and games like Final Fantasy, The Binding of Isaac and Stardew Valley. She used to live and teach in China for a year, but now she is in the US streaming on Twitch. When she was asked what got her into streaming, she said, "I miss playing and watching video games with my friends and family, and Twitch is the closest thing to that."
Regarding what the best parts of her stream are, she said, "I put my heart into my gaming, I always look on the positive side and I don't give up, no matter how tough the challenge is! Once I spent a whole 2-hour stream trying to get a golden Chocobo."
Her recent streams have consisted of playing Dragon Quest XI and eating Cheez-Its, which sounds like a pretty good time if you ask me. We asked her for a fun clip that she could show off, and she gave us this fun video of her playing Just Dance 2020. Give it a watch!
You can follow TacoBebs on her GameTree profile, Twitch channel (she streams 1.5 hours a day from Monday through Friday), her Instagram, and her Discord.

Our second winner goes by the name of QueenofShadows52. A small streamer that loves pandas and plays a wide variety of games such as Overwatch, Grand Theft Auto 5, and Kingdom Hearts. She also like to play Lego games for younger viewers.
You can follow her on Twitch and connect with her on GameTree. She has posted recently that she plans on streaming the new Avengers game, so keep your eyes peeled for her streams on that ;)
And finally, we have a streamer that truly lives up to her namesake: SweetheartRinoa. She is an energetic and positive person that is all about making everyone feel loved and appreciated. She loves making friends when she plays games like Persona 4, and Final Fantasy X. "I wanted an outlet to make friends and make people smile! I want to remind people to never give up and that they are never alone." is what she said when answering a question about what got her into streaming.
She loves cosplaying, editing videos and drawing. Although she has a little bit of anxiety, she still powers through and creates fun streams that people tune into. Regarding the first time she ever streamed, she said, "I used to stream on console in 2017 on a different account and I was always super shy and nervous! Now I have my own PC setup and while I still get some anxiety sometimes, IT HAS BEEN SO MUCH FUN! First streams always have technical issues but it is nothing ya can't handle <3 GOTTA KEEP PUSHING AND HAVING A GREAT TIME! NEVER GIVE UP ON YOUR DREAMS! "
When talking about what her favorite part of streaming is, she said, "Every single person that comes to hang out with me. I LOVE meeting new people and learning about them! Having an opportunity to make someone feel welcomed makes me so so so happy! "
If you want to get a taste of what her streams are like, you can check out this clip she submitted having a dance party! You can stay on top of what SweetheartRinoa is up to by connecting with her on GameTree, following her on Twitch (Monday, Wednesday, and Friday around 12:45-4:30 EST, and Saturday evenings around 5:30 PM EST), joining her Discord and her new Instagram!
We hope you enjoyed this brief look into the wonderful people we have highlighted today. They are only a few out of many others that make the world of gaming such as fun place to be. Look forward to the next community spotlight event where will take on a different theme and see who gets selected for a chance to make themselves be known.
But why wait when you can log on to GameTree and meet more of these wonderful people yourself? If you haven't already, you can download the free app on iOS and Android, or use it on your internet browser. Now is the best time to download it, since we just came out with an update that adds Dark Mode and Groups Chats for users and the top rated games on our app.