Better Together – The Top 5 Anticipated Co-Op Games
by GameTree Team • February 15, 2018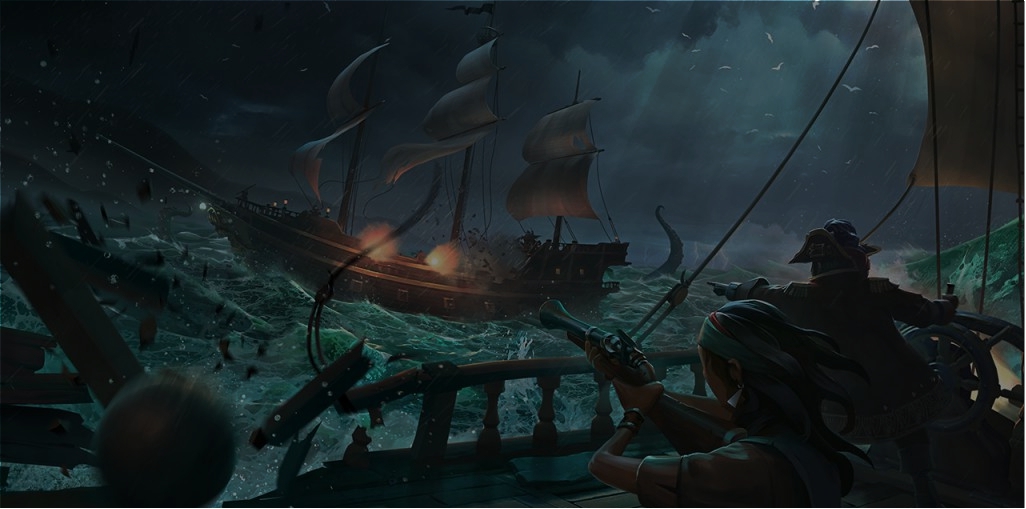 A new year has begun, and it's already quite promising! Here are five awesome upcoming coop games that we are definitely looking forward to. Those titles are a great opportunity to hang out and play with your friends, and that's why we love them!  
#5. Our number five is "Anthem" by EA. In the world of Anthem, you and your friends are Freelancers – heroes who leave the walls of safe cities to explore the world and protect humanity. Sounds great, huh? Add insane mech-like suits and you're set to go! The world looks truly beautiful and fun to explore with mates while taking on vicious beasts and ravaging marauders. Looks like the developers are making this game to stick for a while – keeping up with players who want to play both solo and in groups. Overall – we are cautiously excited since it is coming from EA and we're still sore over Battlefront 2. Still, if you want to become amongst first players to get on top of leaderboards you may want to find people to play Anthem with beforehand, since the release date is already said to be in early 2019 – we can't wait for it!
#4. "A Way Out" Now this is a truly unique game to keep your eye on. This action title has two players escaping prison and living life on the run from the authorities. What makes this game interesting is how it manages to synchronize both players' actions on a split-screen or online, with one occasionally watching a cutscene while the other is busy completing the task for their good. Acknowledging potential problems of requiring two players to progress, Hazelight studios made it so you can play the game either locally or via the internet with just one copy – way easier to LFG!    
#3. Get ready for some zombie co-op action "State of Decay 2"!  If you're curious about how you and your buddies would survive a zombie apocalypse and you're not satisfied by the other games in the genre – this one's for you! Up to four players can team up to gather resources, build and protect shelter and, overall, survive in this harsh world. This includes great character customization and progression, as well as hard decisions: do you wish to keep up with your group or betray them for supplies? Well, anyway, at some point in time you might have to overstep any differences and decide, if your buddy is going to live or die, for example – if he or she gets bitten. Anyway, this is a great overall experience and coop is just the thing that the first game lacked, so if you find some awesome teammates for it – there will be fun time for everyone.
#2 Yarr! Buckle up for the "Sea of Thieves"!  While there are many games that allow you to tackle campaigns and side missions with friends, there are few that have fully settled into the good old pirate theme (not counting space pirates, of course). You and a couple of friends are able to head out to an open sea, sink other ships, battle for gold and reputation, and discover great treasures! This Xbox One / Windows 10 exclusive is the first game developed by Rare after those awkward years of making Kinect games. They are now ready to set sail for a new legacy, and so are we!
#1 And our number one pick is, of course, "Red Dead Redemption 2"! It has been a long time since we've seen a Red Dead franchise. The first game was an immersive open-world set in the wild west, where players could become infamous outlaws – robbing trains, playing poker and needlessly challenging others to deadly duels. Those were the days! Now, take those same experiences, update them with modern-day graphics and technologies and then – add your friends to the mix! Now we know that the single-player aspect is going to be great, but Rockstar is making emphasis on online and coop features of the game, and we already can see ourselves spending hours messing around with our buddies doing outlaw stuff. According to the recent leak, Red Dead Redemption 2's online component will feature 'Battle Royale', 'Revive and Survive', and 'Money Grab' modes – and that's exciting!
It remains unknown whether Battle Royale will operate in a similar fashion to PlayerUnknown's Battlegrounds or Fortnite, but we wouldn't be surprised if Rockstar hopes to capitalise on the popularity of those two titles.

Revive and Survive pits two teams against each other as they try to stay alive. You'll have a limited amount of time to revive your teammates before they are eliminated.

Finally, Money Grab features two teams fighting to procure bags of money in a central location. You're expected to collect and return them to your base as quickly as possible.
---
Playing co-op games surely doesn't have to be hard, and we hope you are as excited as we are about those titles. Even though game developers are leaning towards online multiplayer features for their new releases, some of them still aim for audience that wants to play together, not against each other. Furthermore, those titles are incredibly fitting for any "lan-party" or simply staying at home with your buddies, and focus on people, that will not simply play around for a week or two, but will continue doing so for quite some time. This list of games, of course, can be expanded, and we hope new games will be coming out later this year and later. Prepare yourselves, and also make sure to hang out and play them with some friends, and if you are looking for some – GameTree app has got you covered with advanced personality psychology algorithms, that help you find your perfect co-op team!