The Ultimate Guide to Finding Gamer Friends
by GameTree Team • October 10, 2019
You got older. Your gaming tastes and your friends' tastes diverged. Many moved to new cities, people became harder to meet, and the ones you do meet don't seem to play the same games as you. Even in-game it has become difficult to connect with others. What do you do?
That's my story—or at least it was.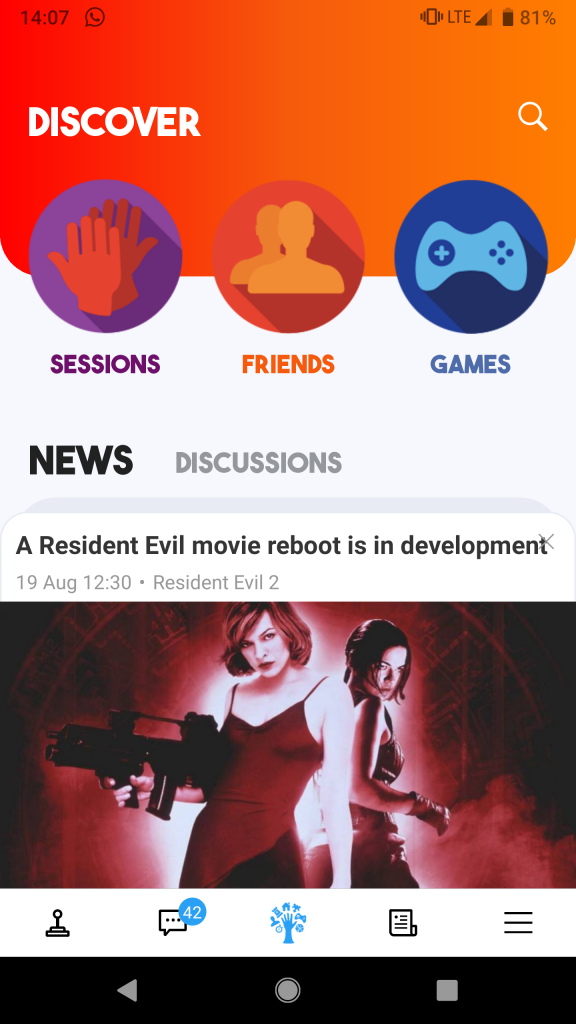 After the real estate market bottomed out in college, I went from living in a mansion with my best friends to living in a new city for my first big boy job. My "exciting" new life consisted of going to work, going home, playing games online by myself, and then going back to work. I can comfortably say this lonely routine was the worst stage of my life. And this is coming from someone who's been through fraternity hazing, army officer boot camp, and a few arrests. Something was clearly missing from my overall happiness.
Most of my important relationships growing up were built through play (animals included). Not only that, but my best and most memorable gaming experiences also happened to be shared with the people I cared about the most; even if I wasn't winning every match.
I realized there must have been hundreds of people in my neighborhood who I would've loved to connect and play with, but I couldn't find any ways to do so. Creating the solution turned out to be a matter of spending a few years studying in Silicon Valley, moving to Ukraine where I could actually afford to hire people smarter than me, and surviving enough winters.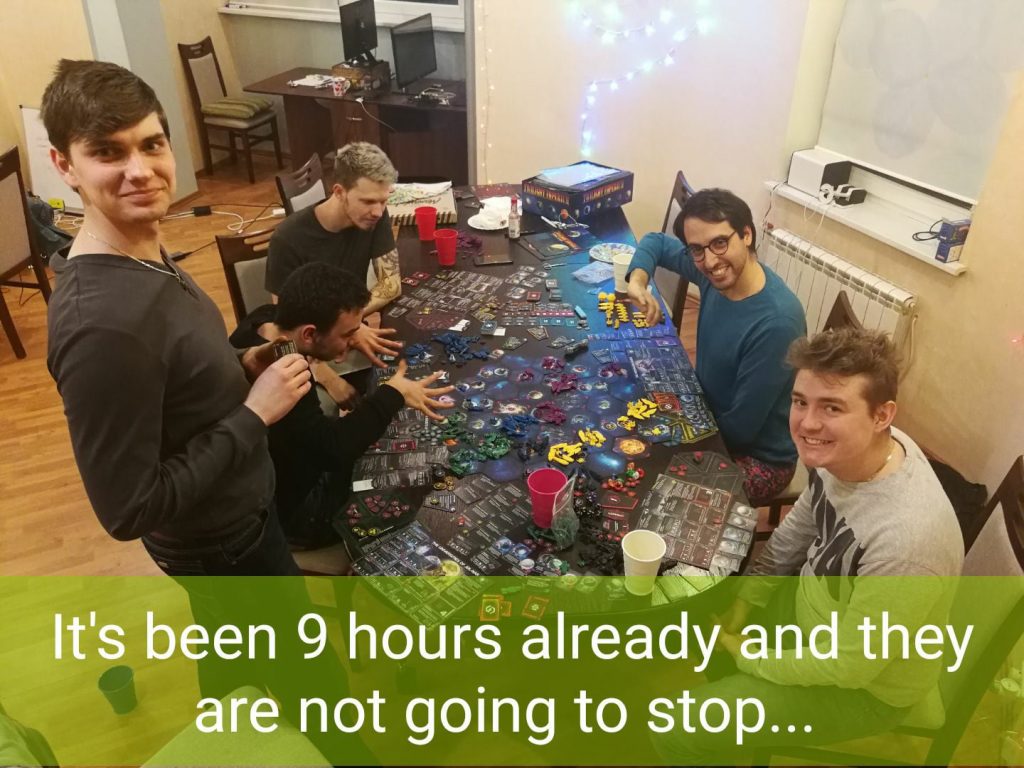 Thus GameTree was born: the ultimate Looking For Group (LFG) app to help you find gamers according to your age, sex, and location. Just joking. Ok, well it does do that, but it brings the gamer social network to the 21st century.
GameTree is a Public Benefit Corporation, so we're not legally required to give you sub-optimal results in a sleazy profit-maximization attempt to keep you on the platform. *A-Tinder-Facebook-everybody else-choo!* Sorry, I sneezed. For transparency and accountability, we have a development vlog and made our internal roadmap public.
Read on to learn how to use our groundbreaking methodologies that over 100,000 people have trusted (with almost zero marketing) to get you the best new gaming friends possible!
The True Path to Friendship
Step 1: Age, Sex, and Location
You can't bake a cake without sugar. Ok, these days you can… but you know what I mean. Age, Sex, and Location are the base ingredients to our matchmaking formula. Though you're required to disclose all three, you can hide these demographics later if you want. The following steps are optional but will optimize your custom user experience.
Step 2: Add Your Favorite Games
GameTree not only supports hundreds of thousands of games across computer, mobile, and all major consoles, it is also the first to cross borders with tabletop games. Yes! You can finally find enough people to play D&D or My Little Pony: The Board Game!
Step 3: Take the Personality Test
We designed the test with a preference for quality questions over quantity; the accuracy depends on how precisely (or not) you want to answer.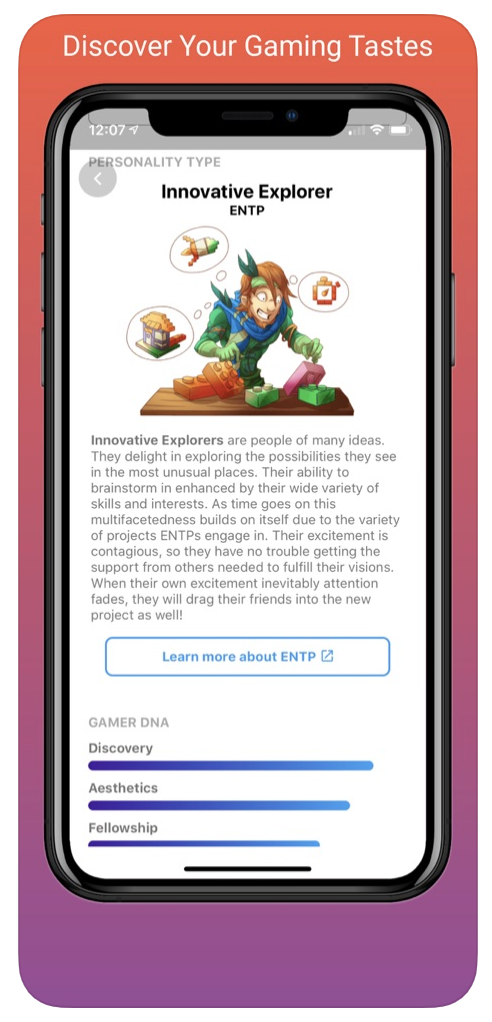 Step 4: Take the Gamer DNA Test
So you say you like role-playing games? Are you talking massively multiplayer or Japanese anime choose-your-own-adventure pornos? It turns out it's better to measure your definition of fun by the types of fun you like, so we developed the Gamer DNA Model that measures 21 of them. No more arguments between casual and competitive players. The answers are in your DNA results.

Step 5: Find Gamer Friends
Now is your opportunity to meet gamers with the highest combination of similar gaming tastes and compatible personalities. There are all sorts of search filters within the app, like finding DOTA or Fortnite teammates, local friends or players of niche games. Set a date and play away!
Before the Big Gamer Date
Avoid Toxicity
Finding potential friends is one thing, but actually making friends with them is quite another. According to hundreds of surveys from GameTree members and general gamers, the number one thing people want in gaming is to play with non-toxic players. The obvious place to start is to… not be toxic. Here's a video we made about this:
TL;DR: Turns out most toxicity is just everyday people like you and me miscommunicating or having a bad day.
Self Awareness – Your Personality
Our Personality Test assigns you one of 16 different personality types. A funny meme-alicious video will tell you all the ways you suck and need to be better if you want to have any friends that aren't you. Here's an example:
Personalize Your Approach – Their Personality
Those same videos also tell you about your gamer matches—what they are like in games, reasons you'd want to be friends with them, and relevant tips for not messing things up. For example, if you're interacting with someone who tends to be very reliable and dependable, don't be late to your planned date or you run the risk of alienating them.
Build Your Reputation
You can prove you're a reliable non-toxic player by leveling up with experience points. Leveling up unlocks more advanced features, like the ability to change your search location, for example. Or, if you can't find matches near you for a niche game, you can discover strong matches who are predicted to like it. Experience points are mostly earned from playing games with people.
Connect with Pre-existing Friends
You may already know people who want to play the same games you do. In this case, GameTree is a great way to keep these relationships alive. The app allows you to sync with Facebook, Steam, and other platforms turning GameTree into a gaming-focused social network.
What's Next
Our vision is constantly expanding while we are searching for all the ways we can help you find the best possible gamer friends and teammates. Instant matchmaking, matchmaking based on personal values, gamer dating, more game/platform account synching, and expanded gamer social network features are just the start.
What GameTree really is to us is curation. It's better to personalize the world to your unique self. It's delivering honest recommendations from all the world's options instead of just whatever is most popular or will maximize our profit. GameTree already provides the best player matchmaking along with the most accurate game recommendation engine in existence, but we're ready to go further. We'd like to give you control over your data to discover the best of what the world has to offer: events, streamers, news, and whatever else is on the horizon for data optimization.