Everything About High On Life Multiplayer And Co-op Modes
by Ievgen Dubravin • October 19, 2023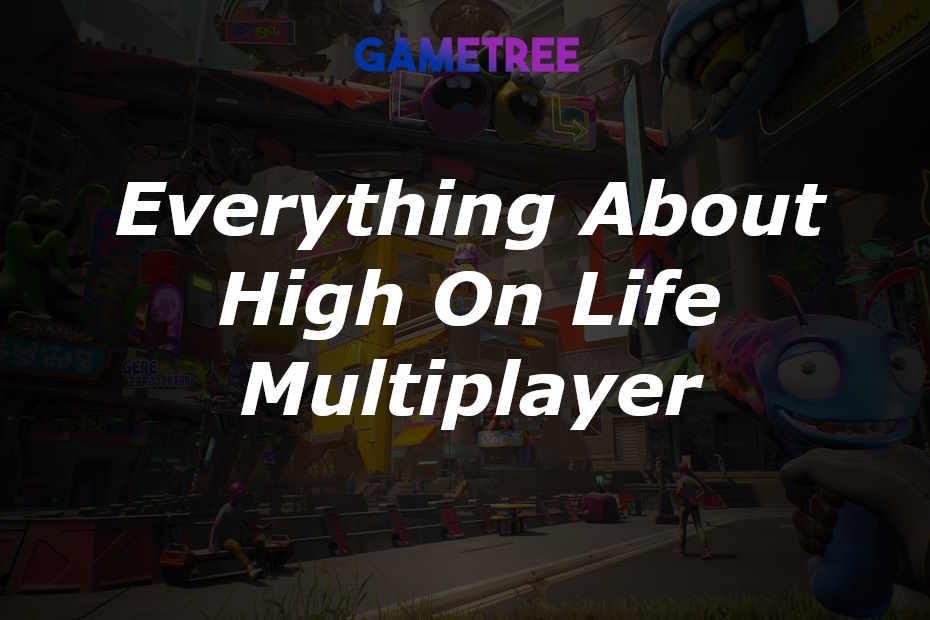 High On Life by Squanch Games is a popular first-person shooter with action-adventure and Metroidvania elements. Its bright graphics and interesting gameplay attract many gamers, and I'm definitely among them. So, is High On Life multiplayer? I've played this game for many hours and want to share my personal experience and answer the thriving question of whether High On Life is multiplayer.

Is High On Life Multiplayer In 2023?
No, a High On Life multiplayer mode is not available. It's a single-player shooter with Metroidvania elements and humor at its core. This is a game from the creator of the famous series Rick and Morty. High On Life is a classic shooter where the player will have to shoot a lot, fight bosses, and explore locations. Also, due to the nature of the Metroidvania genre, not all locations will be available to you at first, but as your abilities improve, you will have the ability to explore previously inaccessible locations.
About High On Life Coop Mode
Is High On Life co-op? Let me share some of my thoughts first before answering this question. Cooperative story games today are not as popular as they used to be since it is not so easy to tell an interesting, coherent story, fit several main characters into it, and focus the narrative on several players at once. Yet, sometimes such games come out – like some parts of Resident Evil or Far Cry.
Most often, co-op can be found in survival games, where you need to collect resources and move toward a specific goal, such as No Man's Sky. Also, very rarely games like A Way Out or It Takes Two are released, which are story-based games that are designed exclusively for playing together.
High On Life is not one of those games, much to my regret. Therefore, a High On Life coop mode is completely absent here.
Will High On Life Be Multiplayer Or Co-op In The Future?
At the moment, there is no news that the developers are planning to add a co-op mode or a DLC with the possibility of playing High On Life for 2 players. On October 3, the only DLC, High On Life: High On Knife, designed for a solo playthrough, was released.
High On Life Multiplayer Games Alternatives
Now you know that the answer to the question 'Is High On Life multiplayer?' is negative. If you still want to play something together with your mate, there are several alternatives.
Elite: Dangerous. If you're excited about the idea of exploring space together and want a cosmic adventure, then this game is perfect for you. You will be the pilot of a spaceship and explore the procedurally generated Milky Way galaxy on a 1:1 scale (over 400 billion star systems). You can interact with each other, trade, mine resources, and engage in piracy. Experience the overwhelming loneliness with a friend in space, where no one can hear you scream.
No Man's Sky. If you want a similar adventure, but simulators are not your thing, and you are looking for a more adventurous type of game, then No Man's Sky is perfect. Here, you can do exactly the same thing, as well as build your bases, land on each planet, look for artifacts, and advance through the plot.
Journey To The Savage Planet. It's another game that is very close in spirit to High On Life but has the co-op mode. You find yourself on a planet after a shipwreck, and your adventure is flavored with a good dose of humor, just like in High On Life.
Meet High On Life Game Fans With GameTree.Me
Although the High On Life game multiplayer is not present, it still attracts many gamers who adore it for its dynamism and cool humor. If you want to discuss its features and plot, share your opinion, and learn about similar games with support for cooperative mode, welcome to GameTree.Me.
It is an application where gamers can communicate, find communities of interest, and discuss their favorite games. Sign up and try it yourself!
Final Thoughts
High On Life is an exciting first-person shooter game with an intriguing plot and a great sense of humor. It's not surprising, considering that the game was created by the same people who brought us Rick and Morty. But is High On Life multiplayer? The answer is no, unfortunately. Although the game doesn't have a co-op mode, I still enjoy playing it whenever I have free time. In my opinion, it's a fantastic game that provides a lot of fun and entertainment. It's a shame that it doesn't offer the option to play with a friend. Still, there are many enjoyable alternatives with co-op and multiplayer modes, some of them I have described in this article, and other can be found in our articles on the best multiplayer Switch games, and PS5 multiplayer games. I really hope you'll find something to enjoy with your gamer friends
Frequently Asked Questions
Does High On Life Have A Multiplayer?
No, unfortunately, High On Life multiplayer mode is not available. You can play it alone only.
No, High On Life is not coop, and you can't play it with other players in one game session online.
How Can I Play High On Life With Friends?
The only option to play High On Life with friends is to enjoy the game on one device and take turns playing. High On Life split screen game mode is also unavailable.
Will High On Life Be Multiplayer?
Unfortunately, there is currently no information on whether this game will ever have a multiplayer mode.