Industry Results: Genre and Platform Preferences (Age & Gender)
by GameTree Team • November 5, 2019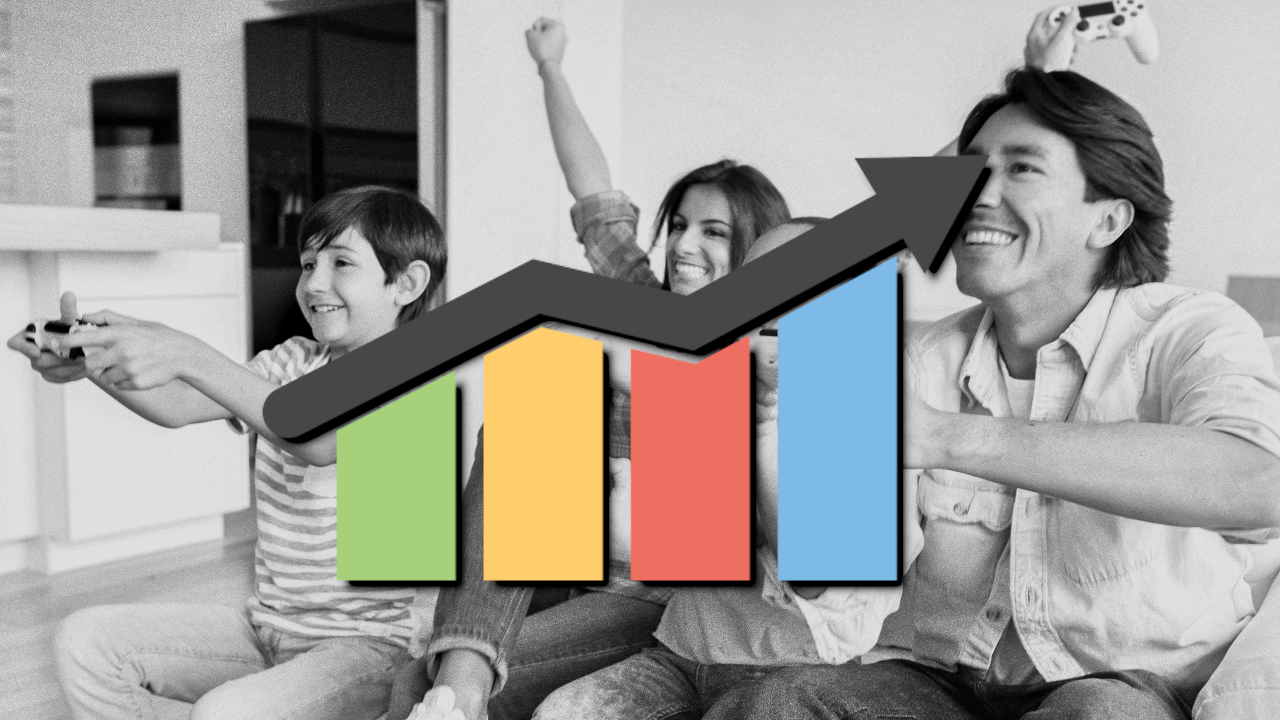 About The Sample:
This is only a small taste of an even bigger report that we have in store for the future. Consider it a teaser for our report that was developed with the aim to better understand gamers and the gaming community as a whole. We present in-depth data on gamers over a wide range of metrics, from preferred gaming genres to gamer personality types. The data comes from 100,000 gamers engaged in sessions involving over 200,000 games on the GameTree platform. The data collected comprises of inputs shared by gamers for our personality and gamer DNA surveys. As gamers are matched to other gamers/recommended games based on their inputs, they are incentivized to provide authentic answers and as such, it can be assumed that the data generated is accurate and reliable.
All data presented in this report is available for public use. As we are established as a Public Benefit Corporation, which is acknowledged as a charter purpose. Our hope is that this report will be beneficial for gamers, game developers, researchers, journalists, investors, and anyone involved in or interested in the gaming industry. Again, there is even more information to come. For inquiries and database queries, write to help@gametree.me
Platforms
In terms of platform popularity, gamers appear to still prefer gaming on a PC when compared to other consoles. At present, 71.4% of users use the PC as one of their gaming platforms. However, gaming on mobile is rapidly gaining in popularity and with an increase in mobile games development, we can expect this figure to continue to rise. With the proposed launch of Google Stadia in Nov 2019, increasing access to cross-platform gaming, the significance of a preferred platform may decrease in the coming years. As of now though, PC is king.
Difference in Platform Preferences by Gender
With regards to platform preferences based on gender, female gamers prefer console gaming compared to their male counterparts who are sticking by the PC. Female gamers also appear to prefer tabletop gaming and have a slight preference of 0.5% for mobile gaming. Female gamers are 7.5% more likely to choose PlayStation than male gamers while male gamers are 5.7% more likely to game on computers. Studies have shown that the access to different platforms has contributed to the rise in female gamers.
Difference in Platform Preferences by Age
A look into platform preferences by age reveals a marked preference for the mobile at 7.3% for the teenager age group between the ages of 13 to 17. With greater access to the mobile platform compared to previous generations and the availability of quality games with great graphics, the youth of today appear to embrace gaming on the mobile and this trend is set to continue as highlighted above as game developers continue to increase mobile games development while enabling new games to be playable on mobile platforms as well.
For the ages between 18 to 22, the preferred platform is PC at 1.4% with mobile being the least preferred platform at 3.0%. A couple of factors could be contributing factors for this outlook: the access to different platforms and the genre of games preferred. As we will examine later in the report, the genre preferred plays a role in the type of platform preferred as some platforms are currently not fully optimized to provide the ideal gaming experience for some genres.
As we examine the young adult age group of 23 to 27 year olds, PlayStation appears to be the most preferred platform at 4.7% followed by tabletop at 4.3% with mobile being the least preferred once again at -5.3%. As part of the generation that grew up with consoles, it is no surprise that PlayStation features as the most preferred platform. The surprise here is the preference for tabletop gaming. It appears tabletop gaming is regaining its popularity in recent times with professional dungeon masters; a noteworthy addition to the tabletop gaming communities.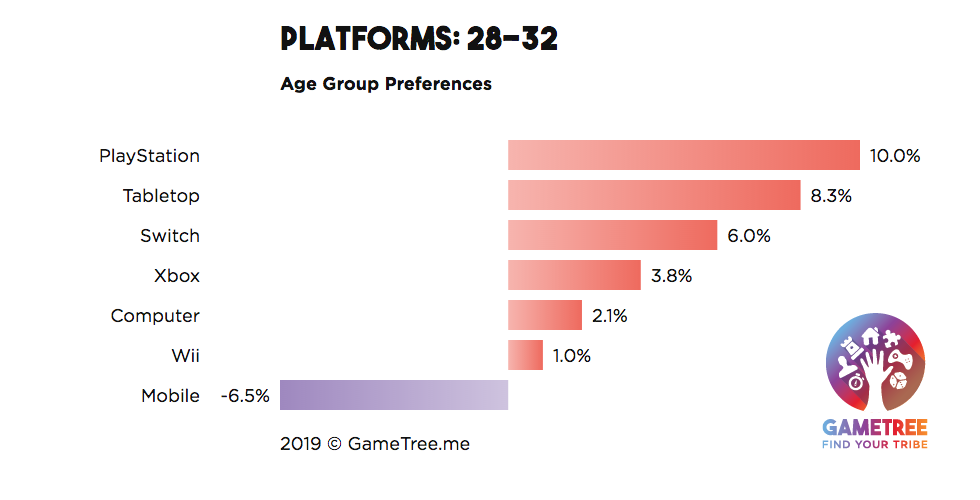 Similar to the previous chart, for the age group of young adults between the ages of 28 to 32, PlayStation appears to be the preferred platform at 10% followed by tabletop gaming at 8.3%. Mobile gaming is once again the least preferred platform at -6.5%. While the overarching statistics appear to be similar to the previously discussed age group, one interesting point to take note of is the difference in percentage preference. We see a preference of nearly 2 times that of the previous chart for both PlayStation and tabletop gaming, while there appears to be a slightly lower preference for mobile gaming among this age group as well.
The age group of 33 to 42 is the pioneer generation for console gaming. The chart clearly reflects this with PlayStation being the most preferred at 21.1%, followed closely by other consoles, and then mobile gaming is the least preferred platform among all age groups at -9.7%. With studies showing the average age of a gamer at 34 years of age, this is the 'gamer' age group that potentially is the largest and most influential among all the age groups as this group has high spending potential and is usually the decision-maker for game purchases for their households and as such is the age group that game developers should work with and appeal to.

Here we delve into the older generation of gamers as we look at the age group of 43 to 52 year olds. For this group, tabletop gaming is the most preferred at 10.3% with console gaming preferred next while the computer is the least preferred platform at -9.2%. As games development for the PC was still in its infancy during this age group's teenage years, the preference for tabletop gaming is a reflection of the gaming scene prior to our digitally-focused present. Console gaming, on the other hand, is on the rise among this age group as high quality games of a wide variety with ease of controls are available on consoles, allowing older gamers to jump in with little difficulty.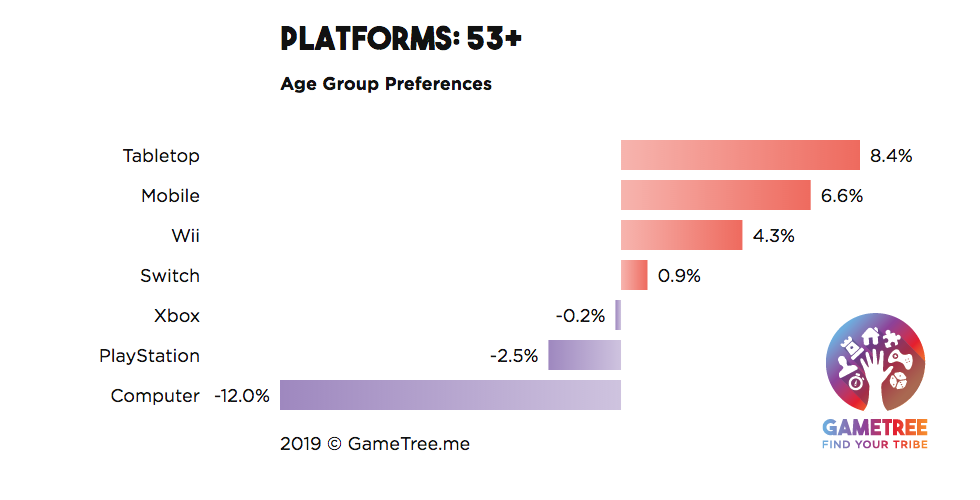 The final age group we will look at is that of the senior gamers of the age group 53 years old onward. As expected, tabletop gaming is the preferred platform at 8.4% with PC being the least preferred platform for all age groups at -12%. One statistic of note here is the apparent rise in mobile as the next most preferred platform at 6.6%. This could be due to easy access to the mobile platform as well as availability of easy, short-term games available on mobile.
Genres
For genre popularity, Action is rated as the most popular at 90.3% with the Music & Party genre as the least popular at 14.1%. Adventure and RPG genres are also rated highly at 68.3% and 65.8% respectively while all other genres have a less than 50% preference rating. A key contributor to the popularity of the Action genre is Battle Royal-esque games such as Fortnite– appealing to all age groups, the Fortnite effect is cited as a trend that is expected to continue rising in popularity in the years ahead.
Difference in Genre Preferences by Gender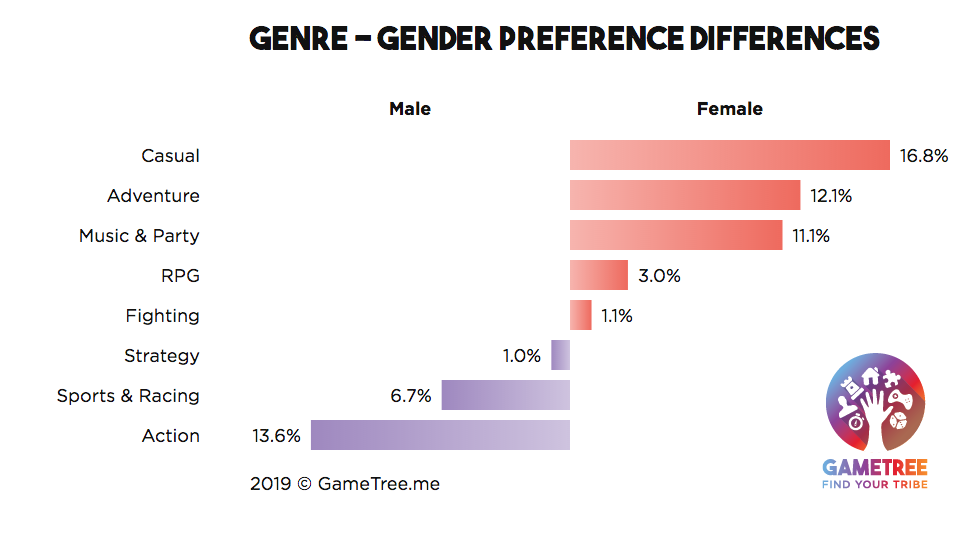 An in-depth look into genre preferences based on gender reveals that male gamers are 13.6% more likely to choose the Action genre when compared to female gamers while the reverse is true with the Casual genre where female gamers are 16.8% more likely to choose it. This appears to be aligned with the availability of more casual, short-term games of a wide variety that can be easily accessed on various consoles and mobile, contributing to a rising number of female gamers. One other point of note is that Strategy and Fighting genres appear to be commonly favored among both genders.
Difference in Genre Preferences by Age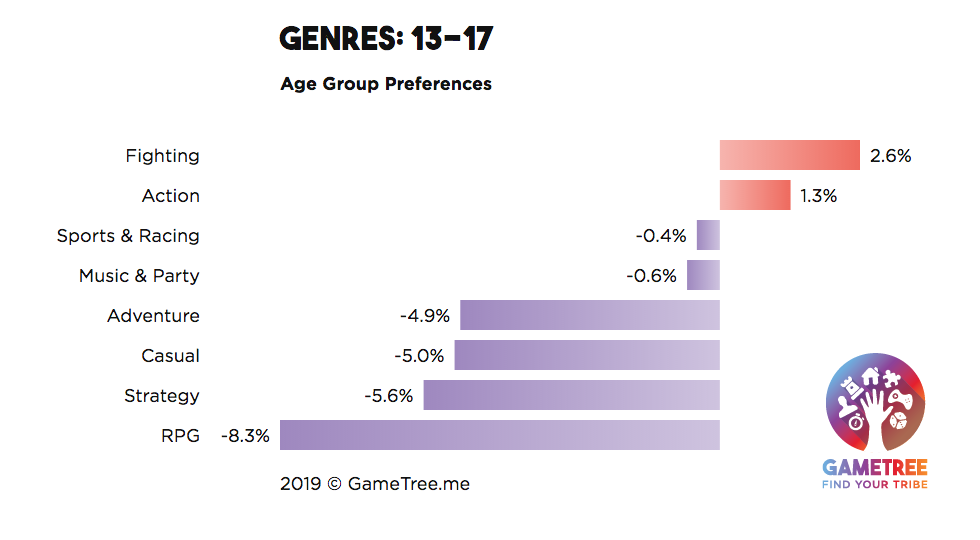 In the age group of 13-17, most prefer the fighting and action genre, the preference rating standing at 2.6% and 1.3% respectively. Those are also the only genres to show a positive preference rating; sports and racing as well as music and party show a small negative trend being -0.4% and -0.6% less likely to be played by 13-17 year olds. The least preferred genre by far is RPG at -8.3%. With reference to the platform preference dataset for this age group, we observe a clear preference for mobile gaming- as strategy and RPG games are, at present, usually designed for PC and consoles, this could be a contributing factor in terms of genre preference.
In contrast with the previous group, the greatest preference amongst 18-22 year olds is for RPG with 1.8% being more likely to play it. Action is once again a popular genre at 1.0% while the least favorite among this age group is sports and racing at -0.8%. It should be noted that the extent of preference is smaller for this group with most preference ratings being in the range of 1%.
Similarly to the previous age group, RPG comes out top with the preference rating standing at 8.6%. Casual, strategy and adventure likewise show a strong positive rating while the least preferred genre is fighting at -3.7%. The extent of preference for this group is higher than for 18-22 year olds with most percentages coming in the range of 5%.
RPG is once again the most preferred genre at 10.1%. Only Action and Fighting genres have a negative preference rating, at -3.4% and -4.3% respectively. Casual, strategy and adventure were quite popular amongst this age group with around 6.3%-7.8% of 28-32 year olds being more likely to play them.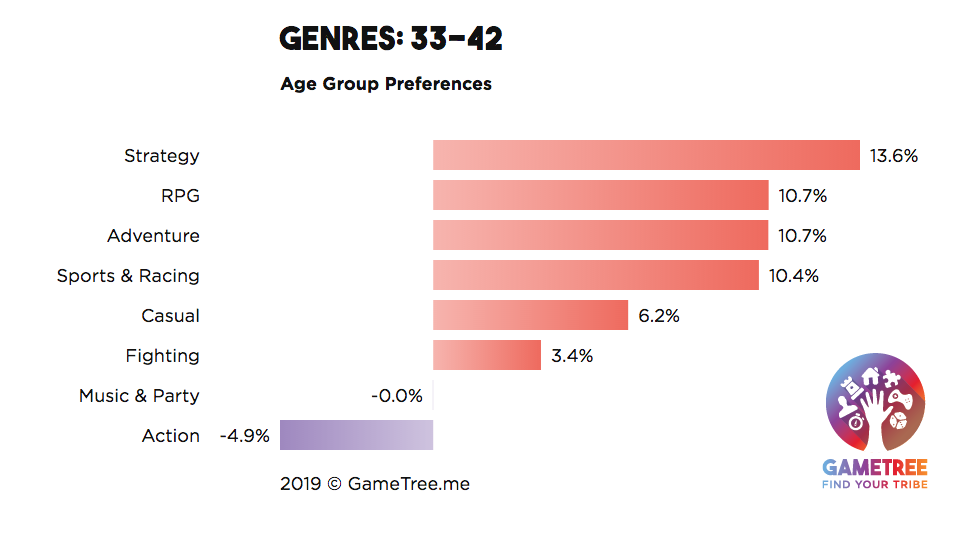 Strategy was the most preferred genre for this age group standing at 13.6% with RPG, Adventure and Sports and Racing also scoring similarly highly, all at around 10.5%. Action was the only genre with a negative preference percentage (-4.9%).
Casual was the most popular genre amongst 43-52 year olds with the least popular genre by far being Action at -16.8%. More action-intensive genres such as fighting and adventure likewise showed a negative rating, of -6.0% and -2.2% respectively. The growing popularity of Casual genre amongst the older populations is most likely due to increased responsibilities that do not allow to spend as much time and energy on getting into a complex, time-intensive games. The decline of popularity of Action and other competitive genres can be partly explained by a general decrease in competition as a motivating factor to play amongst the older demographic.
The least popular genre amongst this age group was Action, with the highest negative preference rating yet of -28.4%. Most other genres were also less likely to be played by people over 53 with only casual, music and party and sports and racing gaining a positive score. The most popular genre for this age group just as for the last one was Casual at 9.2%.
General Trends Summary
The popularity of the Action genre seems to decline with age and the popularity of the RPG genre shows a bell curve relationship with age, peaking at 33-42.
We hope this small portion of our report provided you with a better understanding of gamers and the gaming community as a whole. If you want to read up on the entire thing, you can follow this link to check out our Gamer Data Dump article. Moving forward, we believe the insights shared will be of value for any endeavors undertaken in the gaming industry. For an in-depth discussion on the report, feel free to write to us in the comments below, or to help@gametree.me
On a related note, this report would not be possible without our GameTree users. As such, we would like to take this opportunity to thank all of them in every part of the world for their continued support for GameTree. If haven't had the chance to get to know our community, we would like to invite you to join us at GameTree and become a part of our community.